What is eMPACT?
eMPACT (Empowering Purposeful Advancement of Careers and Training in the Research Workforce) is a career navigation system that promotes the purposeful training and career advancement of the Clinical Translational Research workforce by connecting training and employment opportunities with individual career goals.
eMPACT users can access available jobs and suggested training opportunities based on current job levels and needs.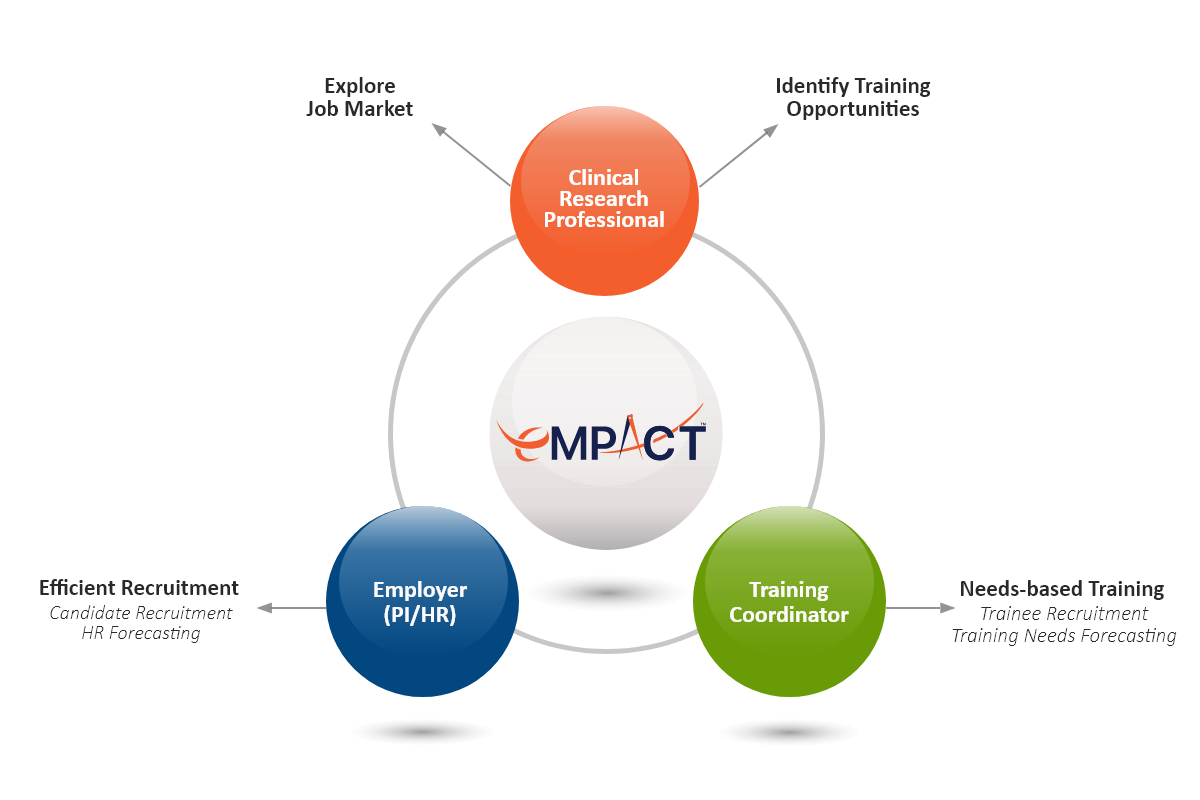 Who is it for?
eMPACT represents the collaborative efforts of 3 stakeholder groups representing separate facets of professional development: Clinical Research Professionals (CRPs), Employers/Principal Investigators, and Training Coordinators. 
Clinical Research Professionals can access personalized lists of current and future employment and training opportunities that meet career goals and competencies. CRPs can access their professional competency levels and compare them to others holding similar positions, and see available training opportunities that can enhance their competitiveness for targeted positions.
 
Employers / PIs can post job openings on the eMPACT platform, identify and recruit potential job candidates from a pool of eligible CRPs currently using eMPACT and seeking employment, and gain information on current competency levels of the local CRP workforce.
 
Training Coordinators can post training opportunities available to both CRPs and Employers/PIs, and can also access general information about current competencies and training needs of the local CRP workforce. 
Our plan is to expand eligible user groups to include the broader CTR workforce such as regulatory specialists, lab technicians, pharmacists, and more. 
 
How Does eMPACT Differ from Other Job/Training Platforms?
When eMPACT is broken down into its complementary functions, it can be easy to mistake the platform as (1) a job hunting tool, (2) a library of training opportunities that can be accessed, or (3) an online approach to reflect on your professional performance and work traits. When looking at these distinct components, you may wonder what sets eMPACT apart from other platforms that claim to provide one or more of these services.
The unique advantages of using eMPACT come from how the system functions as a whole – the collaborative efforts of 3 essential stakeholder groups who support and benefit from the professional growth and development of the clinical research workforce. The focus of the eMPACT platform is to support the individualized career growth of clinical research professionals by providing these professionals with both personal and institutional inputs and options. With this in mind, eMPACT was designed to provide you with:
Task-oriented matching for jobs and training
Personalized training recommendations based on your current or targeted job position
Personalized job recommendations based on your current competencies, skills, and experiences
Think of eMPACT as a career advancement tool, one that you can use to assess your current work situation, plan your desired career path ahead, and access training and professional development resources you need to achieve your targeted goals.
eMPACT Team
eMPACT program development represents a collaborative effort between Emory University's Nell Hodgson Woodruff School of Nursing and the University of Georgia's College of Education, Department of Career and Information Studies, through The Georgia CTSA Translational Workforce Development (TWD) Program. 
TWD brings together expertise in learning, performance, technology, workforce development, and clinical and translational science to
Develop a proof-of-concept system to assess the learning needs of the Clinical Translational Research workforce, 

Seek ways to extend training and career development structures to the broader clinical research workforce within the Georgia CTSA and to the national CTSA community.
For more information, please visit our page on the Georgia CTSA website.